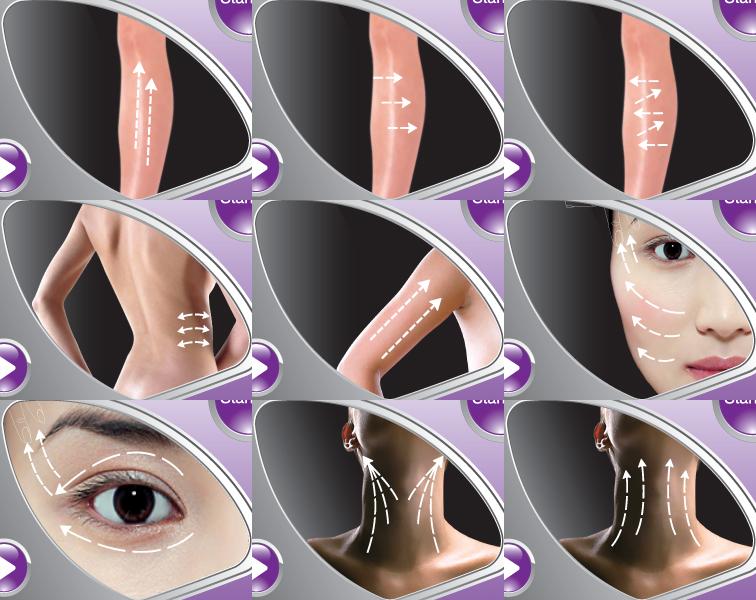 Applications of the Slimming Machine
The V6plus slimming machine is a multi-purpose beauty machine. In addition to common body shaping and body circumference reduction functions, it can also offer the following functions:
Cellulite reduction
Skin tightening
Wrinkle removal
Skin surface smooth
Massage
Eyelid area treatment
Advantages of the Slimming Machine
1. The body contouring machine features revolutionary combination of technologies such as bipolar radio frequency, near-infrared laser, and pulse mechanical tissue manipulation.
2. The slimming equipment is proven to be safe and effective in body contouring and wrinkle removal, and it is applicable for any parts on human body.
3. V6plus is a perfect example combining ALUMA of American LUMENIS Company with VELASHAPE of Israel Syneron Company.

Technical Specifications of the Slimming Machine
Screen
1) Main screen: 8" TFT chromatic touch screen
2) Handpiece 1 screen: 2.4"
3) Handpiece 2 screen: 1.9"
RF frequency
1-10 MHZ
Energy density of RF
60J/cm 3 (Max)
Laser
940nm
Laser power
20W (Max)
Number of handpieces
4 (Optional)
Treatment area
4mm * 7mm / 8mm * 25mm / 30mm * 50mm / 40mm * 60mm
Rated input voltage
AC230V±10% , 50Hz±1Hz/AC110V±10% , 60Hz±1Hz (Optional)
Net weight
43kg
Physical dimension
488mm × 430mm × 989mm